PNB Platinum MasterCard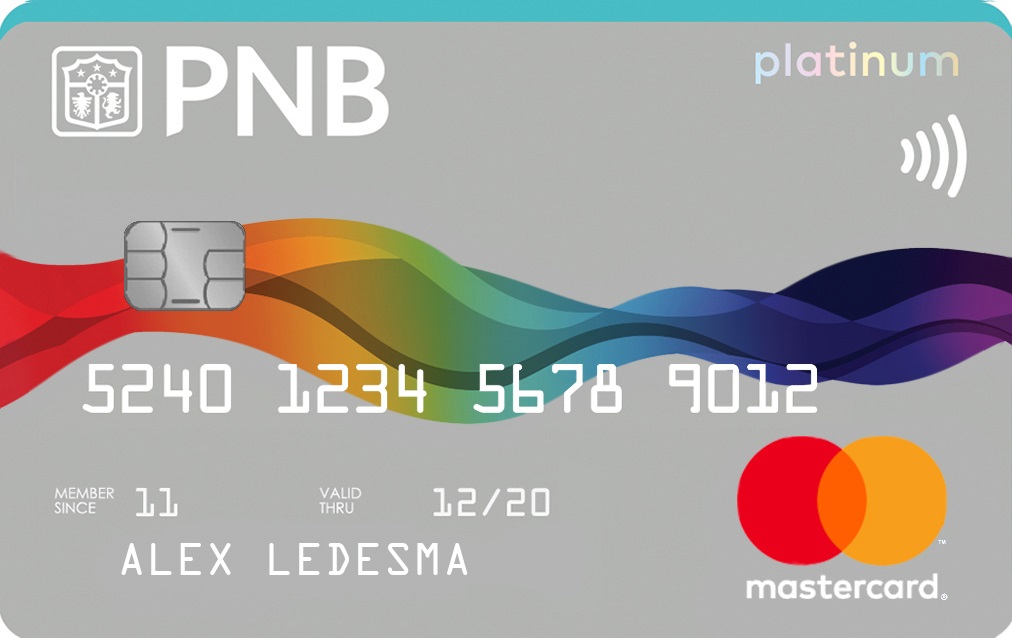 With the PNB Platinum MasterCard, you can keep up to date with the latest fashion, dine in finest restaurants, and venture into new horizons alongside a vast array of perks and discounts. With the PNB Platinum MasterCard, the key to living the life you've always imagined is right in the palm of your hand.  
Card Features
Travel Insurance
Enjoy FREE travel insurance of up to P3M when you charge your fare to your PNB Platinum MasterCard. Other travel-related concerns such as flight delay, lost luggage, and more are also covered. For details, call AIG Philippines Insurance at (02) 878-54-00 or visit www.pnbcards.com.ph.
Purchase Protection Insurance
Enjoy extended warranty and security for FREE with PNB's Purchase Protection Insurance. Your purchased items are covered against accidental damage and theft for 90 days from the date of purchase.
Fraud Transaction Insurance
For only P10/month (or P120/year), be worry-free from unauthorized charges* when your card gets lost/stolen or if your card is used to make fraudulent transactions.
*Monthly coverage begins on date of enrollment.
Dual Billing Flexibility
Your local transactions will be billed in Peso while international transactions get a separate billing in US Dollars with the option to pay in either Dollar or Peso currency (based on payment rate of the day).
Flexible Payment
For Peso accounts, pay as low as 5% of your bill, or P500.00, whichever is higher. For Dollar accounts, pay as low as 5% of your total bill or $50.00, whichever is higher.
My Rewards
a. Cash Credits
Redeem your points for Cash Credits anytime. P50 is equal to 1 point and 4 points are equal to P1.00 Cash Credit. Redemptions can be made in blocks of 500 points.
b. Mabuhay Miles
If you opt for Mabuhay Miles, P50 is equal to 1 point or 1 Mabuhay Mile. A minimum block of 2,000 points is required for initial redemption. Succeeding redemptions can be made in blocks of 100 points.
Balance Transfer
Step up with the ultimate credit card shift with a low interest rate advantage. With Balance Transfer, you can quickly move your other credit card balances to your new PNB Platinum MasterCard.
PNB MasterCard inControl
Manage your credit card spending online anytime. PNB MasterCard inControl lets you designate limits on how, when, and where you want your cards to be used. To enroll your credit cards now, log-on to www.pnbcards.com.ph/incontrol.
Zero % Affordable Payment Plan & LuXeclusive
Shop for your expensive must-haves and high-end luxury brands at 0% interest on installment and choose your preferred payment terms from 3, 6, 9, 12, 18 up to 24 months.
24/7 Customer Service
Know your balance, cut-off, and due date without the wait, 24/7, here, and abroad. Call (02) 818-9-818 for Metro Manila or Domestic Toll-Free at 1800-10-818-9-818 or e-mail: PNBCardsCustomerCare@alliedbank.com.ph.
Cash Advance
Get cash up to 30% of your credit limit from any of MasterCard's 820,000 ATMs worldwide, over 5,000 BancNet, and over 600 PNB ATMs nationwide.
Convenient and Affordable Banking
Your card is accepted in more than 22 million shops in 210 countries around the world. You can also pay your credit card bill through over 900 ATMs and branches of Philippine National Bank, Allied Savings Bank, and also through BancNet Online, BDO branches, SM, and Savemore Payment Centers nationwide.
Best Deals with MasterCard Moments
Access MasterCard's exclusive monthly e-newsletter to get the latest scoop of the world's best bargains. Just log on to www.mastercardmoments.com to preview upcoming deals.
Electronic Statement of Account (eSOA)
View your Electronic Statement of Account (eSOA) anytime, wherever you are, through our secure online access at www.pnbcards.com.ph/estmt
IMPORTANT:
Effective December 2014, the Annual Fee for PNB Platinum MasterCard will be P3,000.
For any inquiry and/or concern, please call our 24/7 Customer Service at (02) 818-9-818 or DTF 1800-10-818-9-818.