Pay your Meralco bill with ease!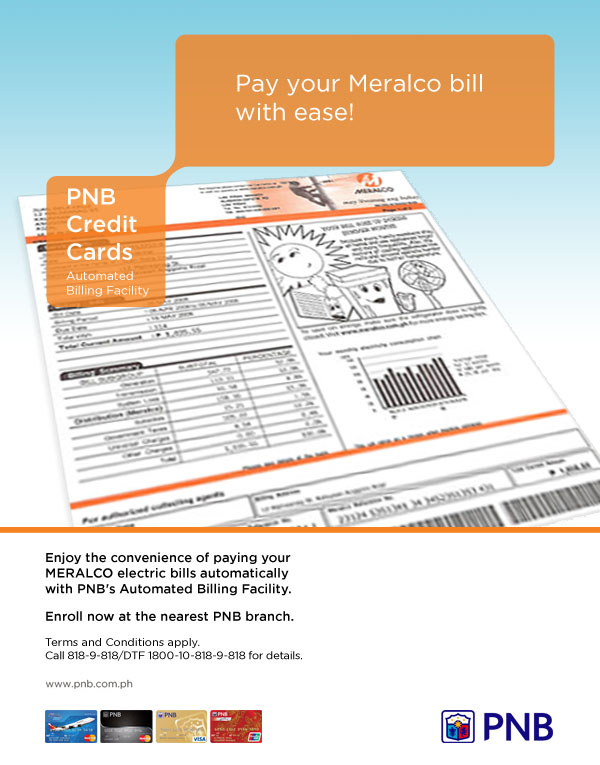 ---
FAQ's ENROLLMENT/ CANCELLATION/ BILLING PROCEDURES:
Q: How to enroll my MERALCO Account in PNB Credit Card ABF Facility?
A: You can enroll thru any PNB Branches nationwide. You can also secure ABF application form in our website (www.mabuhaymilesmastercard.ph or https://cards.alliedbank.com.ph)
Q: Who are the qualified enrollees?
A: PNB Principal Cardholders with good credit standing.
Q: What are the requirements needed upon enrollment?
A: Accomplished Enrollment Form, latest MERALCO Billing Statement, and Valid ID (with signature).
Q: Can I use my Corporate Card?
A: No, only individually issued PNB Credit Cards can be enrolled.
Q: How long is the processing period of my application?
A: The processing period is 7 Banking days. Your ABF will take effect on the next Meralco billing.
Q: How would I know if my enrollment is approved?
A: Confirmation of your enrollment will reflect on your next utility bill, with the message - "BILL UNDER AUTOMATIC DEBIT-PNB VISA/MC/CUP OR PNB CREDIT CARD"
Q: How do I cancel my ABF enrollment?
A: Yes, at any time and for any reason within 7 banking days. Submission of a signed letter of request and a copy of your valid I.D. are required to facilitate the request.
Q: What if my Credit Card was lost/upgraded/stolen/replaced?
A: Your enrollment will automatically be cancelled upon blocking of the old card. The Meralco accounts must be re-enrolled after the replacement card has been received and activated by submission of new documents.
Q: Can I enroll more than one MERALCO account?
A: Yes.
Q: Can we do partial payments?
A: No. The reflected amount on your Meralco bill will be the same amount charged to your credit card account.
Q: Will my Meralco ABF transactions earn bonus points?
A: No.
Q: Can I enroll my Meralco business/office bills?
A: No, only residential/individual Meralco bills can be enrolled under the ABF Facility.
Q: For cases of insufficient credit limit due to uncleared payments or insufficient limit, can clients pay directly in Meralco?
A: Meralco shall inform the cardholder and advise him/her to pay directly to Meralco or any Meralco accredited payment partner.
Download ABF Enrollment Form here.