More referrals, more cash credits with PNB Member-Get-Member Program!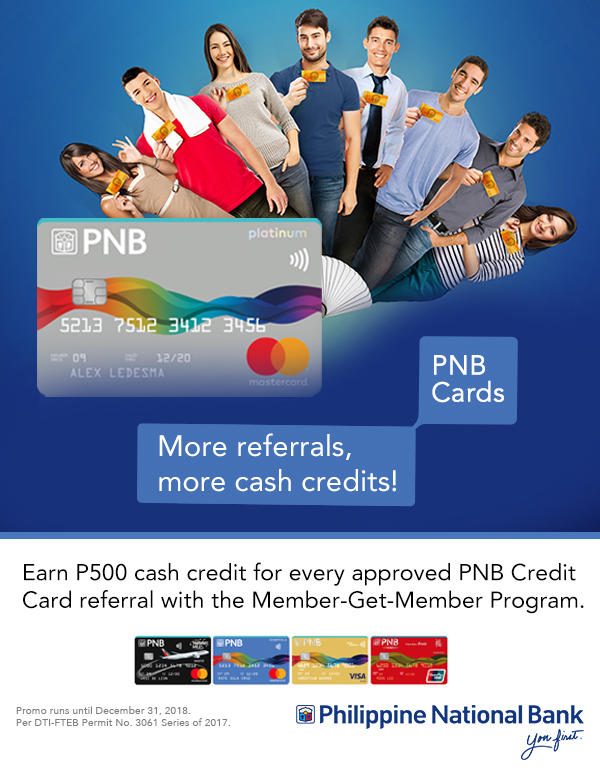 Promo Mechanics:
1. This program is open to all existing PNB Credit Cardholders in good credit standing, excluding Corporate and Distribution Cards.
2. The promo period covers all referrals received from March 1 to December 15, 2017.
3. Existing PNB Credit Cardholders may refer their personal network to apply for PNB Credit Cards. If the referral is approved, the PNB Credit Cardholder who referred the the account shall receive P500 cash credit to his own PNB Credit Card Account.
4. There are no restrictions to the type of card being applied for.
5. Cash Credit Incentive cannot be transferred to another PNB Credit Cardholder nor it can be converted to cash or any other form.
6. Process for Referral:
6.1. PNB Credit Cardholder has to send via email to mgm@pnb.com.ph the following information regarding their referral:
Complete Name
Contact Number
Email Address
6.2. Only complete referrals shall be processed.
6.3. PNB shall send PNB Credit Card Application form to the referrals within two days from receipt of referral.
6.4. Referred individual to accomplish the application and submit the following to mgm@pnb.com.ph for processing:
Filled out and Signed PNB Credit Card Application Form
Valid Government-Issued ID
Income Documents
For Employed applicants: (any one of the following)
Latest ITR/W-2
One Month Payslip
Latest Certificate of Employment
Latest Credit Card Billing Statement
For Self-employed applicants:
Latest ITR with DTI/SEC Registration and Audited Financial Statements
6.5. Only complete applications shall be processed.
6.6. Once the referral is approved, the cash credit incentive will be credited to the referrer's PNB Credit Card Account within 30 days from date of approval.
6.7. A notification will be sent to the referrer if the referral/application has been approved via email.
6.8. For follow-ups regarding the status of referrals, PNB Credit Cardholder Referrer may send an email to mgm@pnb.com.ph or call 24/7 PNB Customer Service at (02) 818-9-818. Email must contain the name of the referral.
6.9. The PNB Credit Card has to be active at the time of referral and incentive crediting.
6.10. Only new-to-bank, principal approved referrals shall earn cash credit incentive.
6.11. PNB shall have the sole right whether to approve or reject an application. PNB shall have the sole right whether to disclose the reason for rejection of an application.
PNB Cards 24/7 Hotline (02) 818-9-818 / DTF 1800-10-818-9-818
PNB is regulated by the Bangko Sentral ng Pilipinas.
BSP contact details: (02) 708-7087 / consumeraffairs@bsp.gov.ph