PNB Credit Card - New Rewards Conversion
Effective April 15, 2019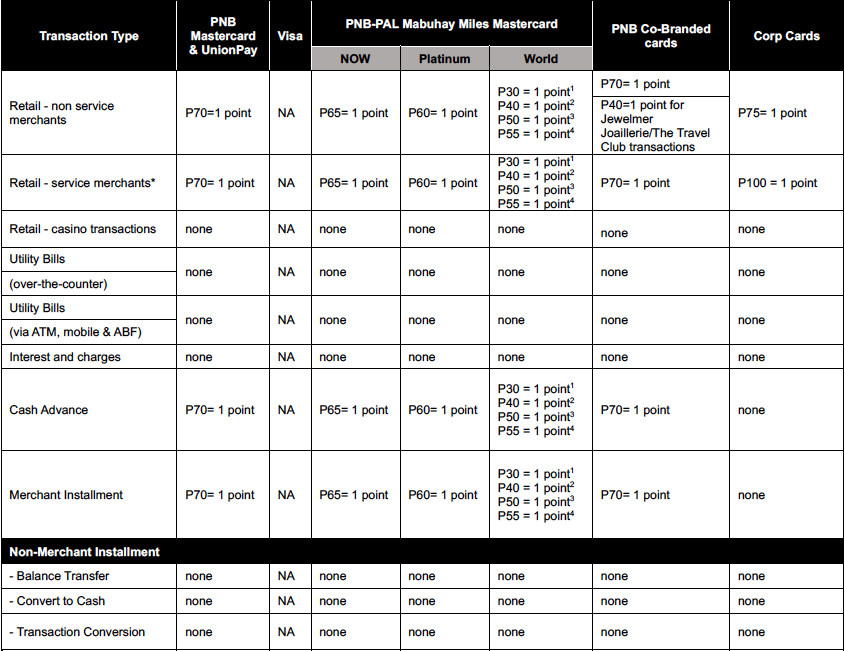 *subject to capping

Notes: For PNB – PAL Mabuhay Miles World Mastercard cardholders, an annual review will be conducted every January to determine the appropriate rewards conversion based on the PNB Deposit Average Daily Balance (ADB).
1 with minimum PNB Deposit ADB of P100M
2 with mininimum PNB Deposit ADB of P50M
3 with minimum PNB Deposit ADB of P10M
4 with less than PNB Deposit ADB P10M or no account
Click here to read the updated copy of the PNB Rewards Program Terms and Conditions. T&Cs apply.
PNB Cards 24/7 Hotline (+632) 818 9818 / DTF 1800 10 818 9818.
PNB is regulated by the Bangko Sentral ng Pilipinas.
BSP contact details: (+632) 708 7087 / consumeraffairs@bsp.gov.ph