Up to P100 OFF at foodpanda!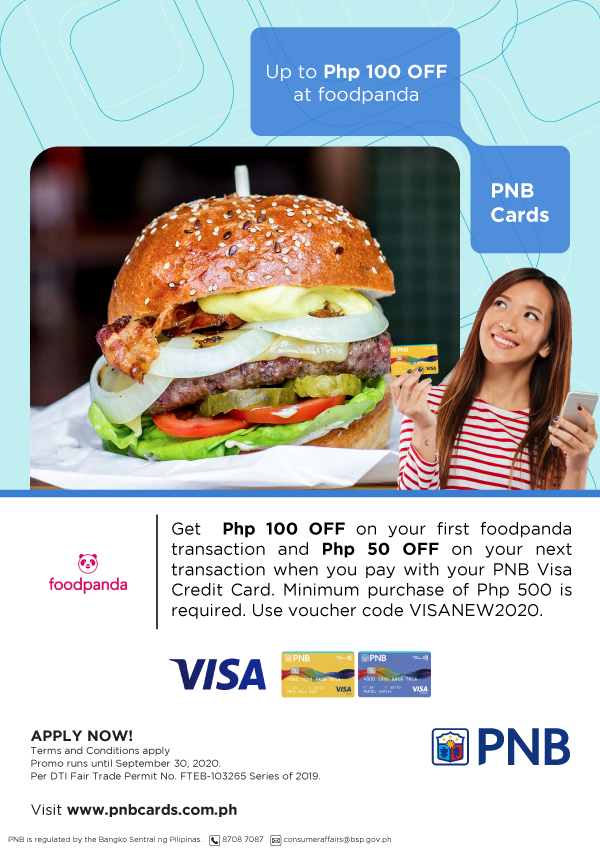 Promo Mechanics:

I. Qualifications:

1. This offer is open to all food panda users, or those who download the foodpanda app and use a PNB Visa card to pay for the first time.

II. Promo Period and Offer:

1. Promo period is from August 10, 2020 to September 30, 2020. Offer is available on all Mondays to Thursdays of the promo period.

2. To avail of the offer, a PNB Visa cardholder must have a foodpanda app. For new users, the foodpanda app may be downloaded free on the on the App Store or Playstore.

3. The foodpanda app user must register and use a PNB Visa card for the first time in order to avail of the offer.

4. For a minimum purchase of at least Php500, the cardholder is entitled to Php100 OFF on his first foodpanda purchase; The Php100 will automatically be provided to thecardholder upon check out using the qualified PNB Visa card.

5. Upon successful purchase, the Visa cardholder will receive a Php50 voucher on the app within 1 business day.

6. The voucher can be used on a succeeding food panda transaction, provided the transaction meets the minimum purchase requirement of Php500, and be paid using thesame qualified PNB Visa card.

7. Vouchers expire on Sept 30, 2020. The offer and voucher are for single-use only, non-transferrable and not convertible to cash

III. Terms and Conditions:

1. Eligibility

i. The Promotion is open to all principal and supplementary holders of Visa Credit, Debit, Prepaid and Commercial cards issued in the Philippines and abroad ("Cards") ("Cardholders").

2. Promotion Mechanics and Conditions

i. The Promotion commences on August 10, 2020 and ends on September 30, 2020 ("Promotion Period"). All transactions must be made within the Promotion Period to avail of the Promotion.

ii. To avail of the offer/s, Visa cardholder needs to settle his/her bill using his/her Visa card.

iii. Offers/freebies are not convertible to cash.

iv. Merchant has restrictions on the use of the promotional offers, please refer to the website for the details.

v. 2.5 A principal Card account is treated separately from the supplementary Card account. Transactions for the principal account will be considered separate from transactions of the supplementary account and vice versa.

vi. This promotion cannot be used in conjunction with any other merchant promotion and discount.

vii. In the purchase of goods and services which are on promotional discounts, the Senior Citizen can avail of the promotional discounts or the discounts provided under the Expanded Senior Citizen Act of 2010, whichever ishigher.

Per DTI Fair Trade Permit No.FTEB 103265 Series of 2020.